In the arid climate of Peru, on high altitude, some of the finest oregano in the world can be found. And of course, we go where the best spices grow. Hence, a team from Paulig recently visited our Peruvian supplier - a trip to ensure that Santa Maria Oregano is sustainably grown and produced. 
Perhaps most famous for starring in Italian and Greek cuisines, oregano is used both in fresh and dried form. Santa Maria's dried oregano has an initial bitterness that turns into a woody and minty taste with a slightly floral flavor, making the difference between a good pizza or moussaka - and a great one.

Oregano should retain a nice green colour with limited brown parts and no sticks or twigs. To ensure a consistent quality, Paulig performs additional cleaning and quality checks when the raw material arrives at Paulig's factories.
At an altitude of over 3000 meters above sea level, in the Northwestern part of Peru, lies the beautiful region of Puquina. Here, oregano plants are grown on terraces catching the morning fog and the mid-day sun in an almost untouched wild environment. This is where Santa Maria's supplier has their growing fields.

Harvesting of oregano usually occurs after the plant has reached maturity, which takes several months. The crop is harvested by hand and then dried in the sun.
Paulig's ambition is for 100% of raw materials from risk areas to come from sustainable sources verified by external parties by 2030. Marika Korpilaakso, Riina Rätsep and Triinu Töniste work with sustainability and sourcing at Paulig and travelled to Peru to observe for the first time a third-party multi-tier Amfori audit at the oregano supplier's.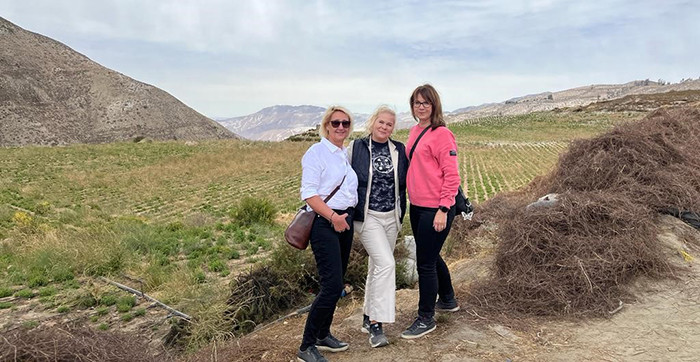 - To ensure that sustainable practices and compliance with our Code of Conduct and ethical principles, it is vital for us to foster long-term relationships with our partners. We were therefore pleased to see that our long-time supplier passed the external audit. We are now looking forward to further develop our fruitful collaboration and continue to bring consumers top-quality oregano says Riina Rätsep.


About AMFORI audits
An AMFORI audit is a social audit conducted by an independent third-party auditor to assess the social and environmental performance of a company's supply chain. The audit evaluates a range of issues, including labor rights, health and safety, environmental impact, and business ethics. Multi-tier audit means that beside the processing facility also farming part is audited. Read more at amfori.org.