Our products
Our main product categories are Tex Mex, Coffee, Spices and Snacks. Our product portfolio is almost 100% plant-based and our ambition is that, by 2030, 70% of our products and services enable the health and wellbeing of people and the planet. We will continue to develop our products in a healthier direction as well as innovate new products. 
Our beloved customer brands are Paulig, Santa Maria and Risenta. We also have our Customer Brands Business Area that is known for the Poco Loco brand and for the excellent know-how in private label manufacturing. In the beginning of 2022, we acquired a Spanish-based Tex Mex and snacking company Liven. 
We are the European Tex Mex market leader, and our products are sold in 70 countries. 
Our coffee products include roasted coffee, ready coffee drinks, cold brewed coffee, chocolate drinks and filter service.  In coffee we are the marker lead both in Finland and in the Baltic countries. As one of the first large roasteries in the world, all our coffee beans come from sources that have been verified sustainable. 
Our Santa Maria seasoning world includes Spices, Tex Mex, Thai Food, Indian Food and BBQ concepts. Santa Maria is the leading seasoning brand on the Nordic market.  
We offer a wide range of snacking products – from our famous tortilla chips to snack bars and pop corn.
Our locations
We have altogether 10 factories, out of which 6 have been certified CarbonNeutral®. Our goal is to have all our factories carbon neutral by 2023. This is part of our sustainability approach: we have a target to reduce Green House Gas emissions in our own operations by 80 % and in the value chain by 50 % by 2030 from a 2018 baseline. 
Read more about our sustainability approach and ambitious targets here.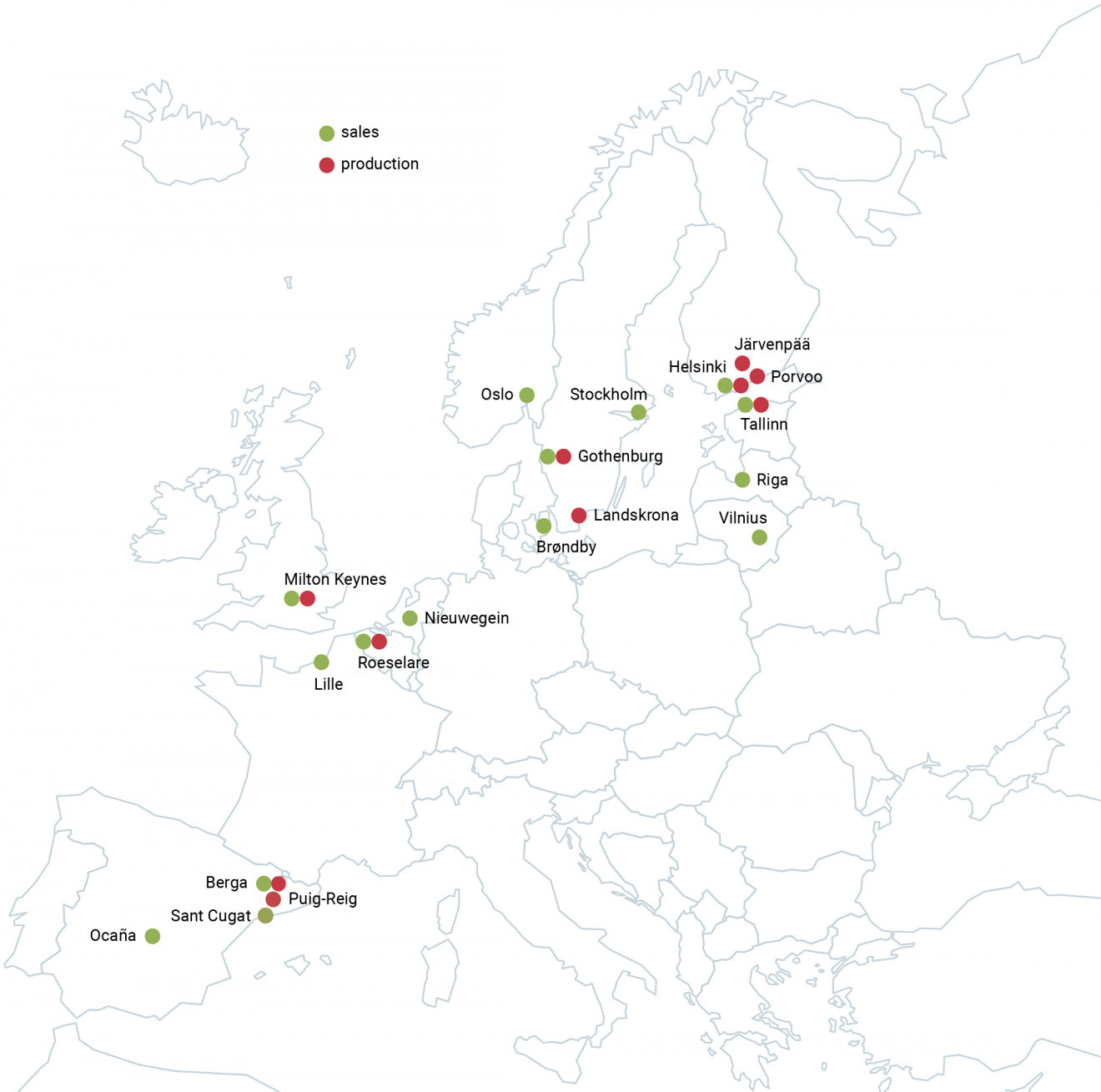 We are headquartered in Helsinki, Finland (Vuosaari). We also have offices in other countries and our sales teams are serving our customers and stakeholders from local offices around the world. 
Our treasured and vast range of Tex Mex products are made in Belgium (Roeselare), Sweden (Landskrona) and the United Kingdom (Milton Keynes). 
Our iconic coffees are roasted in Finland, in the Vuosaari and Porvoo (Robert Paulig) roasteries. Juhla Mokka, Presidentti, Mundo and Frezza are some of most beloved coffee products.
Our popular Santa Maria spices, that'll take you on a flavor journey all around the world, are produced in in Estonia (Saue) and Sweden (Mölndal). Sweden is also home for our favored, plant-based and climate compensated Risenta products, including i.a. granolas, kernels and seeds.
Our delicious Snacks come from Belgium (Roeselare) and Spain (Berga & Puig-reig).